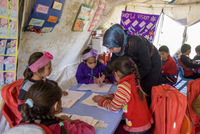 MHS students take the long way home in support of World Vision
Friday, 31st August 2018
The Melbourne High School student interest group Global Issues Education (GIE) joined thousands of Australians to lead global change. Last Friday, participating students challenged themselves to walk long distances home, to gain a better understanding of the realities faced by refugees and those living in poverty around the globe.
Staff co-ordinator for Global Issues Education (GIE) Ian Dowling stressed the importance of MHS students understanding their unique privilege.
Year 11 student Michael Wynne, who raised over $350 by walking 23 kilometres to Ringwood station, acknowledged that it's upsetting that there are a lot of people out there who don't get to experience life as we do.
David Chen Vice Pres (Year 12) and Aldon Vong GIE Pres (Year 12) made the twenty kilometre trek to Box Hill to show what students can do within their scope. David, Vice President of GIE, expressed enthusiasm for World Vision's engaging community programs – "More than just standard charity work that distributes funds – they really engage and educate students and the community, which I think is a really important part of charity work."
Aldon, GIE President, commented that "it's really easy to get lost in everyday life as a student. I feel like doing this walk gives you the opportunity to reflect on what people have to go through just to get access to basic resources, like water for instance, which is the truth for many communities out there."
Junior Executive of GIE, Brian Lee, committed to walking an incredible 60 kilometres and had some inspiring words for others thinking about getting involved with World Vision: "At the end of the day I know there's an end to it…that after 60 kilometres I don't have to walk anymore, after 40 hours I don't have to live out of my backpack anymore, but that's not the case for many refugees overseas. I guess I just wanted to do something to hopefully improve the situation.
Click here to view SBS News coverage of Aldon and other MHS Students discussing why it is important to stand with young refugees around the world.
To find out more about the World Vision Backpack Challenge CLICK HERE