About Us
Creating a culture of giving back.
We are Melbourne High School's fundraising organisation. Through partnerships with students, parents, old boys and staff we encourage the community to give back to the School.
As a selective government school, Melbourne High School (MHS) has a reputation for producing some of the greatest thinkers and leaders in the country.
Government funding, however, is only available for core programs and basic facility maintenance. To continue providing tomorrow's leaders with a stimulating and supportive learning environment, MHS needs the financial support of the School community.
We exist to help the School provide a rich all-encompassing education for all students regardless of their background and family circumstances. This is achieved through raising funds for a variety of non-government-funded programs such as mental health wellbeing programs, physical education programs and visual and performing arts.
Through our scholarships, trusts and bursaries, we support the 20% of students who struggle to meet the cost of books and uniforms. We distribute awards that recognise students who are achieving in every aspect of their lives. We also lead the aspirational development of new facilities and activities.
In these ways, the Foundation propels Melbourne High School forward in its pursuit of excellence.
We are a not-for-profit company limited by guarantee. We invite you to join our community of supporters who help ensure all MHS students can reach their full potential.
More Information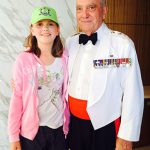 COL. JOHN WERTHEIMER AM RFD PRESIDENT, MHS FOUNDATION
'The Foundation continues to increase the extent of our outreach. Above all, we must honour the importance of strong relationships. We invite you to participate in the Foundation's ambitious journey towards making Melbourne High School an even better place.'