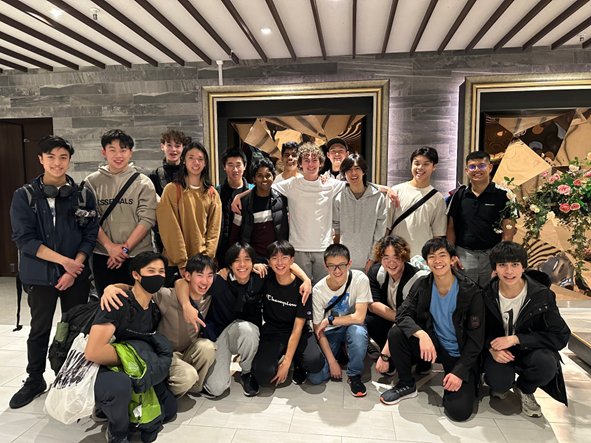 Japan exchange experience 2023
Monday, 19th June 2023
On the early morning of Friday, April 14th, at 5:00 am, the exchange program between Kasukabe Senior High School (KSHS) and Melbourne High School (MHS) commenced after a hiatus since 2019 due to the COVID-19 pandemic. Accompanied by Mr. Fujino, Dr. Kemp, Dr. Mordini, and twenty VCE Japanese Second Language students, the group departed from Melbourne International Airport, filled with excitement.
The group departed for Narita, Japan at 8am. Since Japan was only an hour behind Melbourne, they spent the entire Friday on planes, bullet trains, and local trains. This full day marked the first stage of the trip, sightseeing and traveling across Japan. A quick dinner at Ikebukuro Station was followed by arrived at their hotel around 10:00 pm.
The following day, they boarded a bullet train to the first destination, Hiroshima. The group fully enjoyed the experience, making use of folding tables, limited Wi-Fi, and reclining chairs to work, eat, and rest.
Upon arrival in Hiroshima, they had some free time before checking into their hotel. Many joined the Saturday night dinner rush to dine on the local specialty, Okonomiyaki, a savory pancake.
Over the next few days, the group visited Miyajima Island, Itsukushima Temple, the Hiroshima Peace Memorial Museum, and the Atomic Bomb Dome. The students took on the responsibility of finding the routes and leading the group, allowing them to develop their navigation skills and become familiar with Japan's public transport system.
From Hiroshima, they took two more bullet trains to reach Kyoto Station, which offered endless dining options and shops. In Kyoto, they visited various temples, with the students again responsible for finding their way to Kinkaku-ji (Golden Pavilion) and Ryoan-ji.
Their navigation and leadership experience in Hiroshima and Kyoto prepared them for the highlight of their time in Kyoto—the Language Day. On this day, they traveled around the city in groups, without relying on Google Maps, and used maps and their language skills to find destinations. Asking locals for directions, waiting at bus stops, and using physical maps became the norm. This day marked the end of the first stage of their trip.
On April 20th, the second stage of their trip began—the homestay and attending school at Kasukabe Senior High School. They were warmly welcomed at the school with applause and gift bags filled with souvenirs. After bidding temporary farewells to the students they had spent the previous week with, they went home with their host brothers.
Each student's homestay experience was unique, filled with challenges, unfamiliarity, change, but also laughter, conversations, and smiles. They navigated crowded trains, had early wake-up times, and engaged in reciprocal English and Japanese lessons with KSHS students. The welcome assembly included speeches in both English and Japanese by the principals and student representatives from both schools, showcasing the strong school culture of Kasukabe High School.
In the classroom, despite difficulties in understanding lessons, such as Classical Japanese, the students made new friends, met different teachers, and participated in cultural activities like calligraphy. This firsthand experience of Japan's education system was considered invaluable and different from studying Japanese solely from textbooks.